"When I first started working out, I, like many others, operated under the idea that the only way I could lose significant weight was through cardio. I would run three to four times a week, pounding the pavement or treadmill, and at first I saw the results I wanted.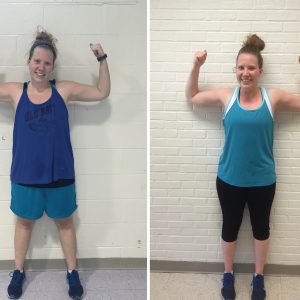 But as time went by my weight loss started to plateau and the action of running became a boring chore. Luckily it was around this time that a friend encouraged me to try working out with Susan. Initially I was super nervous about what we'd be doing and if I could handle the intensity of her workouts, which we rumored to be "killer."
The first workout certainly lived up to the rumors, as I had to take multiple breaks, was dripping in sweat, and was sore for days. Though exhausted, I felt accomplished to survive my first "Niebergalling". The next week I went back to Susan and again I survived an extremely challenging workout.
With each workout I felt an increasing sense of accomplishment and satisfaction. Over time, I started taking fewer breaks, my recovery was quicker, and I started to feel stronger. Even with setbacks, such as my persistent knee pain (probably from pounding the pavement), Susan was able to work with me and  push me.
To date I've lost around 30 pounds working out with Susan and I look forward to every "Killer" session. Furthermore, I feel stronger, fitter, and more confident in what I'm able to accomplish. Susan has really opened my eyes to the world of strength training and I continue to learn and grow through her coaching."
Kaitlin W.
---
"After taking a group class led by Susan, I was an instant fan. Her workouts were challenging, her coaching was effective, and her classes were fun. And I knew I would get results. I've known for a long time that strength training for post-menopausal women was one of the best ways to be healthy and stop and reverse the creeping weight gain.
At the age of 66, I'm building muscle! I never, ever planned to do dead lifts, assisted pull-ups and weighted squats in my 60's. Not only am I doing these things and more, I love doing it. I'm seeing muscle develop and feeling strength in my core and getting my weight under control. It's very exciting to know that I actually can reverse muscle loss and control my weight.
Susan is a wonderful teacher and coach. She knows what it takes to get in shape and become healthy and she has a passion for fitness. She's always learning from others in the field of fitness and passing on what works to her clients. I'm fortunate to have found her!!"
Kay G.
Wife, mother and grandmother
---
"I have been working out with Susan Niebergall once a week for the last few months, and have LOVED it. To be totally honest, I am incredibly A.D.D. when it comes to workouts.  I typically get bored of one method after a few weeks and change it up to something else; however, I have stuck with Susan because of the variety she offers. Each week, she designs a new, engaging work out, and I have yet to lose interest.
Additionally, Susan is a blast to work with – she is tough and pushes me to my limits every single week, but she also has a fantastic sense of humor and can keep things light. In the beginning, I struggled with deadlifts – I couldn't seem to get the form and consequently couldn't lift much weight.  She did not accept my failure and insisted that I could and would deadlift.
She spent time each week helping me make small adjustments, and it is because of her push that I was finally able to perfect my form. There isn't a day that I leave workouts not dripping with sweat and smiling."
Sarah M.
---
"Susan is an incredibly knowledgeable and compassionate fitness professional. As a coach and trainer, she pushes me to do my best, to be stronger, and to go beyond what I believe I am capable of doing, but safely and appropriately without injury. I love how she constantly varies workouts to keep her clients interested, focused and making progress. Susan is a teacher and a nurturer, who fully supports all of those she works with to be better versions of themselves."
 Gretchen H.
---
Susan is an amazing trainer. One of her sessions has me working harder than I do on a 6 mile run. My arms and legs look more toned after working out with Susan and I feel stronger than ever. Susan is really good at focusing on a variety of muscles and I think most important, her personality keeps your workout fun! I highly recommend her.
Corey T.